Directly on the Slope
Far Away From Everyday Life
Winter holiday in the World Cup location of Flachau –
Luxury self-catering ski huts in Salzburg
The Ski World Cup location of Flachau is well-known as a winter sports paradise beyond the borders of Salzburg. And what could be a better place to enjoy a winter holiday than your own mountain chalet?
Directly on the slope, in the loveliest and largest ski region in Austria – you'll find over 5 valleys and 12 summits at the Snow Space Salzburg.
The Almdorf Flachau, with its exclusively furnished self-catering huts in an authentic alpine design, has everything that a winter holiday needs: set off from the hut and enjoy skiing and snowboarding on hundreds of kilometres of slopes, cross-country skiing, snow shoe hikes or dive into the nearby Therme Amadé. And relax in the evening in the hut's own private sauna or in front of the crackling fireplace.
Skiing in Ski amadé, Austria's largest ski region
Flachau is located in the heart of Ski amadé, which has a total of 760 kilometres of slopes and more than 270 highly modern lifts. And the Almdorf Flachau is just a stone's throw away from the slopes.
You can set off directly from your mountain hut or luxury chalet and enjoy maximum skiing pleasure in Austria: spend the whole day carve skiing and snowboarding wihout using the same lift twice. And in-between enjoy a cosy bite to eat. From the small, cosy hut with its home-made hearty snacks to the Lifestyle-Alm with DJs and live acts to the gourmet mountain restaurant – the choice is almost endless. Then you can head back to the slope with renewed energy and good spirits.
Or right behind Flachau, in one of the cosy apres-ski huts, where you can raise a toast to the mountain panorama and sunset. There's something for everyone on a skiing holiday in Flachau!
Buy your ski pass(es) in the online ticket shop!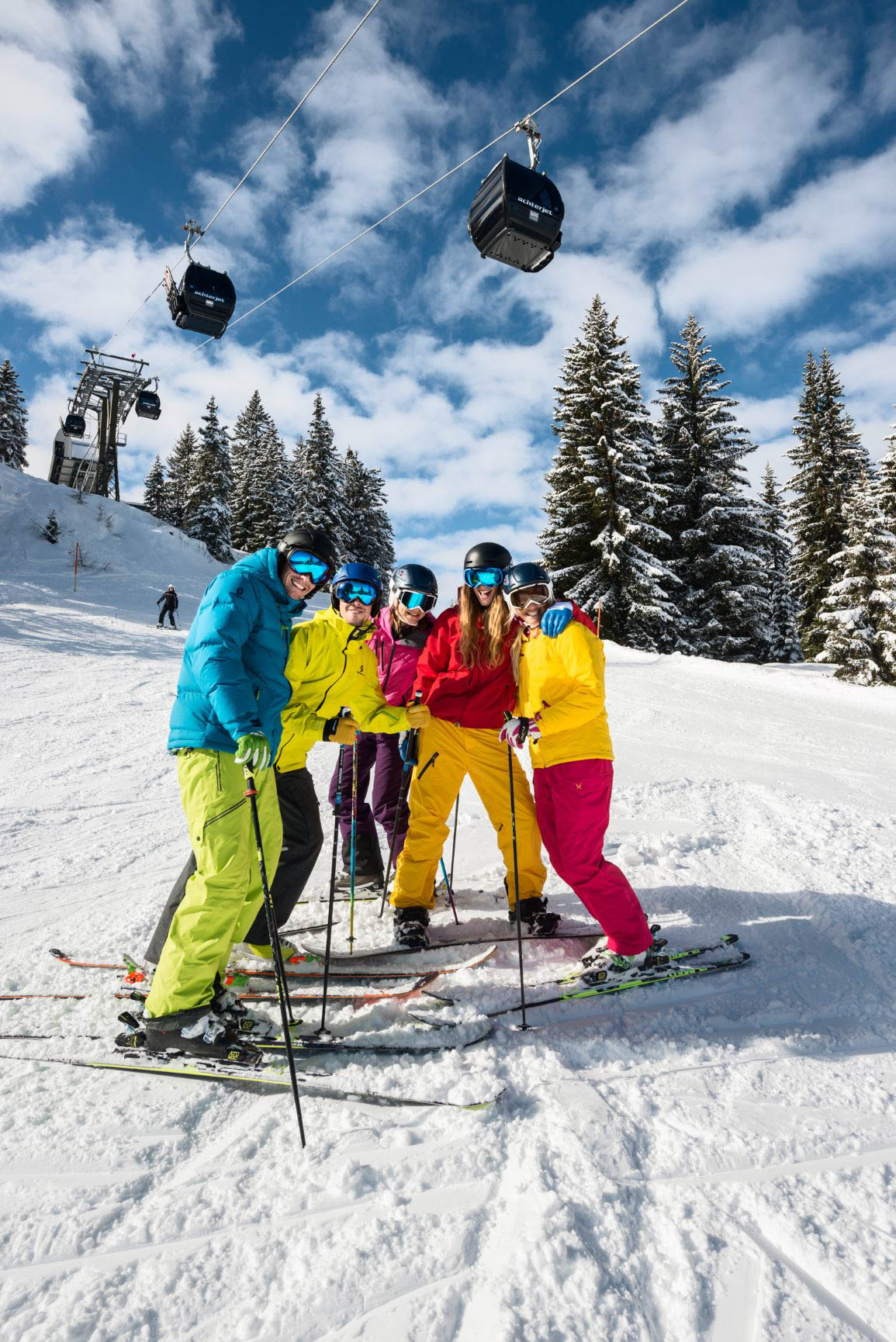 Winter hikes and snow shoe hikes directly from the hut
Do you want to enjoy the winter Salzburg landscape in a more gentle manner? The forest trail – one of several winter hiking trails in and around Flachau – goes past the Almdorf. Overall, there are over 40 kilometres of cleared trails for your winter hike. And if you decide to head up to the mountain, we can provide you with snow shoes free of charge. By the way: several ski and sport schools in Flachau offer guided snow shoe tours.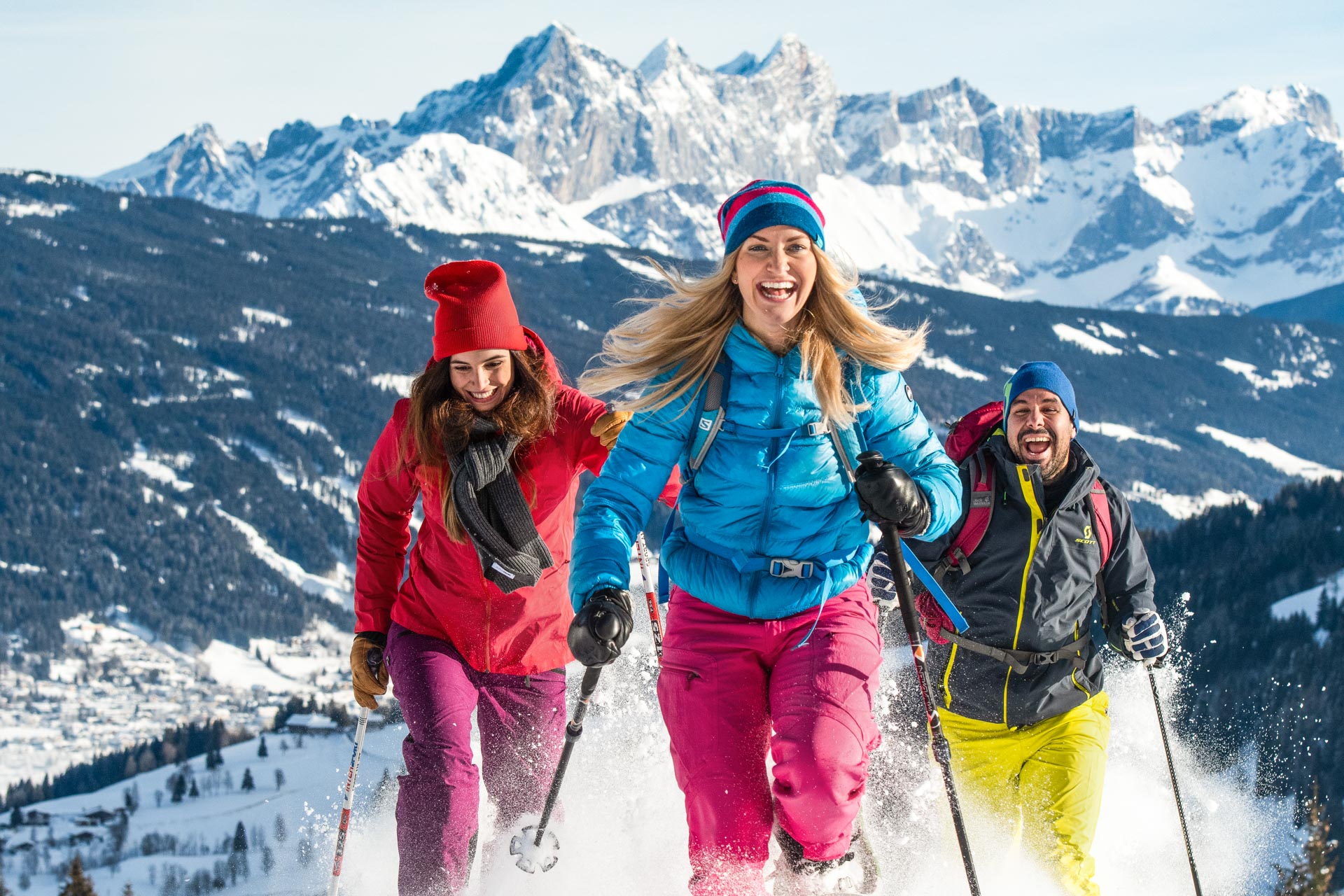 The toboggan run right by the Almdorf
While you relax on the terrace, your kids can sledge down the hill right in front of you. There are sledges, mini bobs and sledge discs available. And because sledging is also tremendous fun for adults, there are four toboggan runs in Flachau where you can hire toboggans. One of the runs ends right by the Almdorf. By the way: most of the runs are also floodlit in the evening.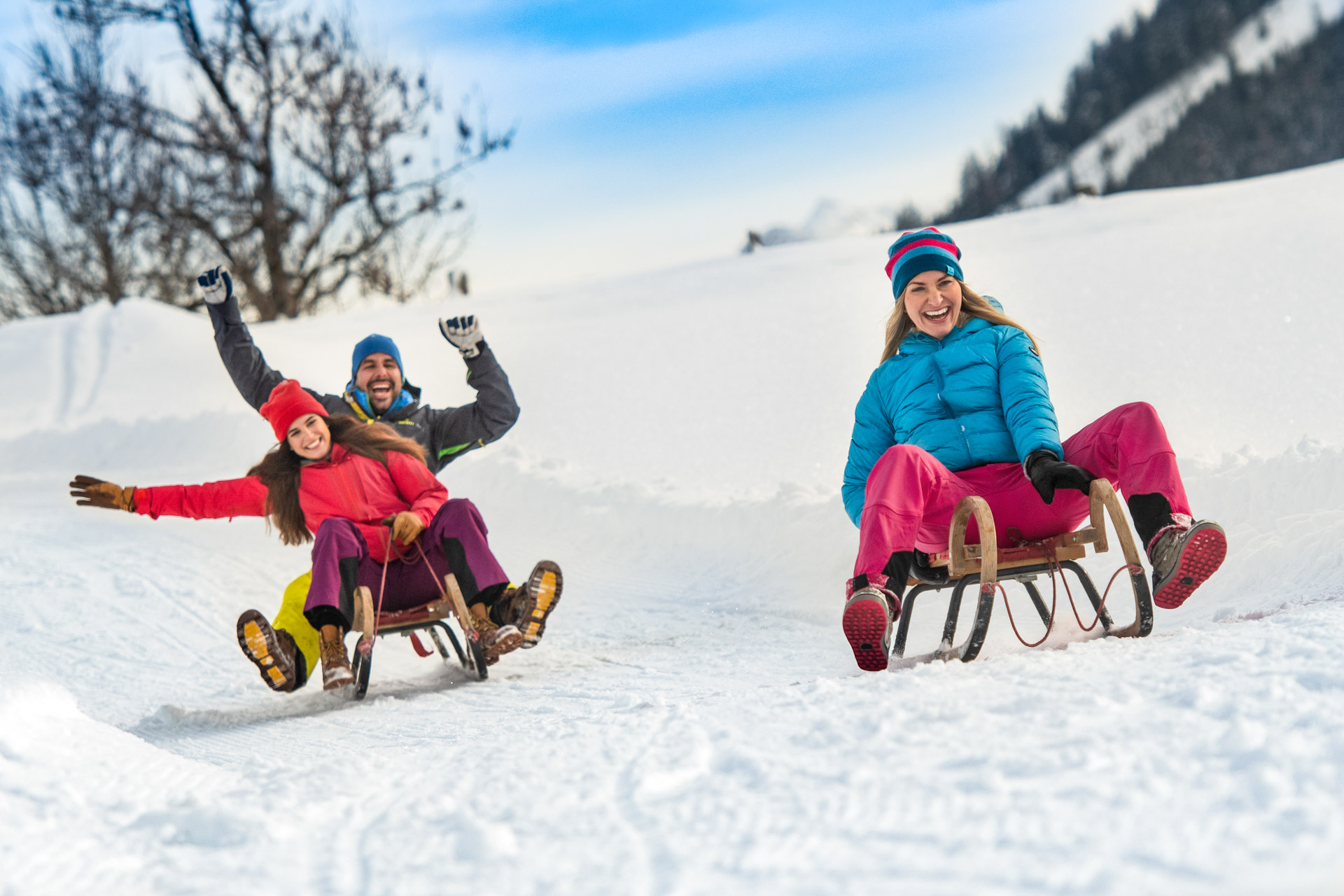 Leave your trail: cross-country skiing in Flachau
Cross-country skiing is considered to be one of the healthiest forms of sport. Gently gliding through the white landscape on crisp snow trains almost all the muscle groups. Whether you're a beginner or have more experience – you can discover idyllic forest cross-country tracks, challenging ascents and "sightseeing courses". In and around Flachau there are up to 260 kilometres of perfectly prepared cross-country ski tracks that you can tackle in the traditional or skating style. The cross-country skiing coaches at the Flachau ski schools can show you the correct technique.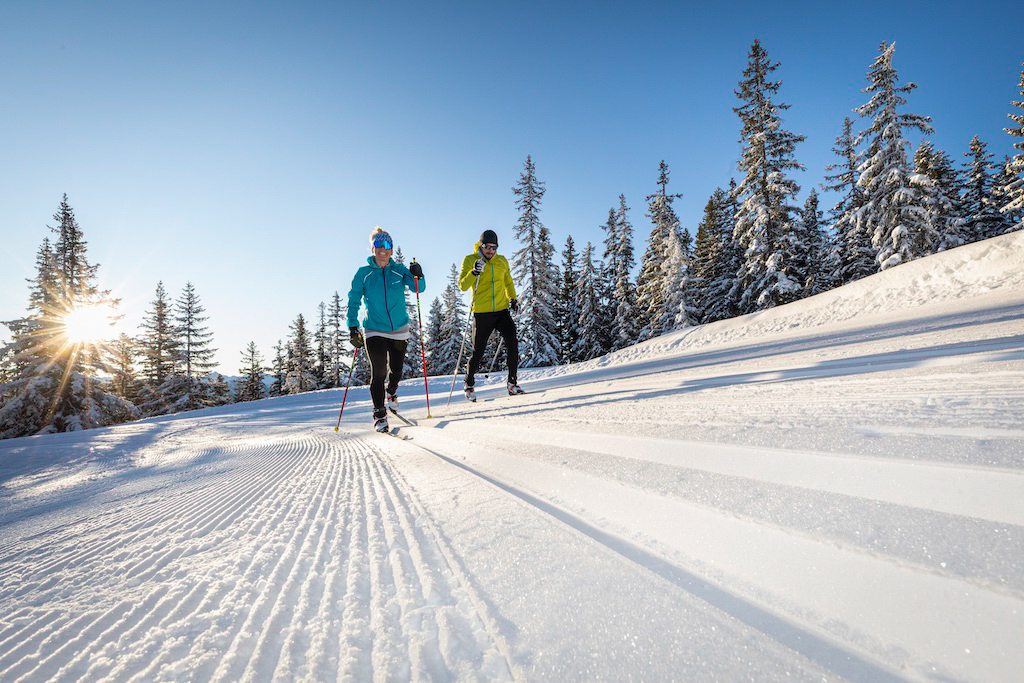 Luxury chalets and huts in the heart of Snow Space Flachau
Our Almdorf is located directly on the biggest slope in Flachau. The Achterjet cable car including ski rental and ski school, as well as the Lucky Flitzer with several training lifts, are just a few swings away. That means: strap on your skis, travel the few metres to the valley station and you're already in the heart of the Ski amadé. And whenever you want to take a break from skiing, simply head to your hut and enjoy your privacy with views of Flachau and the surrounding mountain world. Are you interested in one of our winter packages? We're happy to answer any questions you might have about your holiday at the Almdorf Flachau.
Self-catering huts with many extras
You can enjoy a relaxing holiday in our holiday huts and mountain bungalows. Each bedroom has a separate bathroom with a shower/bath and WC. You'll also find (almost) everything for your holiday: we provide bath towels, sauna towels, firewood and much more. The generous kitchen/living area on the first floor is also very well-equipped. And we can even arrange for breakfast to be delivered every moring, with regional delicacies and fresh bread from the local baker.