A Big Heart
For Little Companions
Holidays with dogs at the Almdorf Flachau
Dog owners know: going on holiday with their beloved four-legged friends is not possible in many hotels and properties. However, here at the Almdorf Flachau we don't just have a heart for our furry friends, we also place a special focus on holidays with dogs. And with its expansive, diverse nature, the Pongau region in Salzburg is the perfect place to enjoy a lovely holiday with your pets.
Hiking with dogs over hill and dale
What about going for a run, for example, or a lengthy hike so that your dog can really let off steam? There are numerous running and hiking trails of various difficulty levels around the Almdorf. From a leisurely walk on a gentle forest and alpine pasture hike to a joint trip up to the summit. Please keep your dog on a leash at all times to ensure that there are no unpleasant encounters with  forest and grazing animals.
Swimming fun with four-legged friends: swimming with dogs in Flachau
A tip for very special days with your dog: take a dip in the refreshing water of the Enns, Bluntau, Lammer and Salzach rivers. Away from the official swimming areas, there are also plenty of places where your dog can play in the water. Also to be recommended: the lovely riverbeds and sandy bays of the Kleinarlbach and Zauchensee lake and the stream alongside the footpath in Flachauwinkl.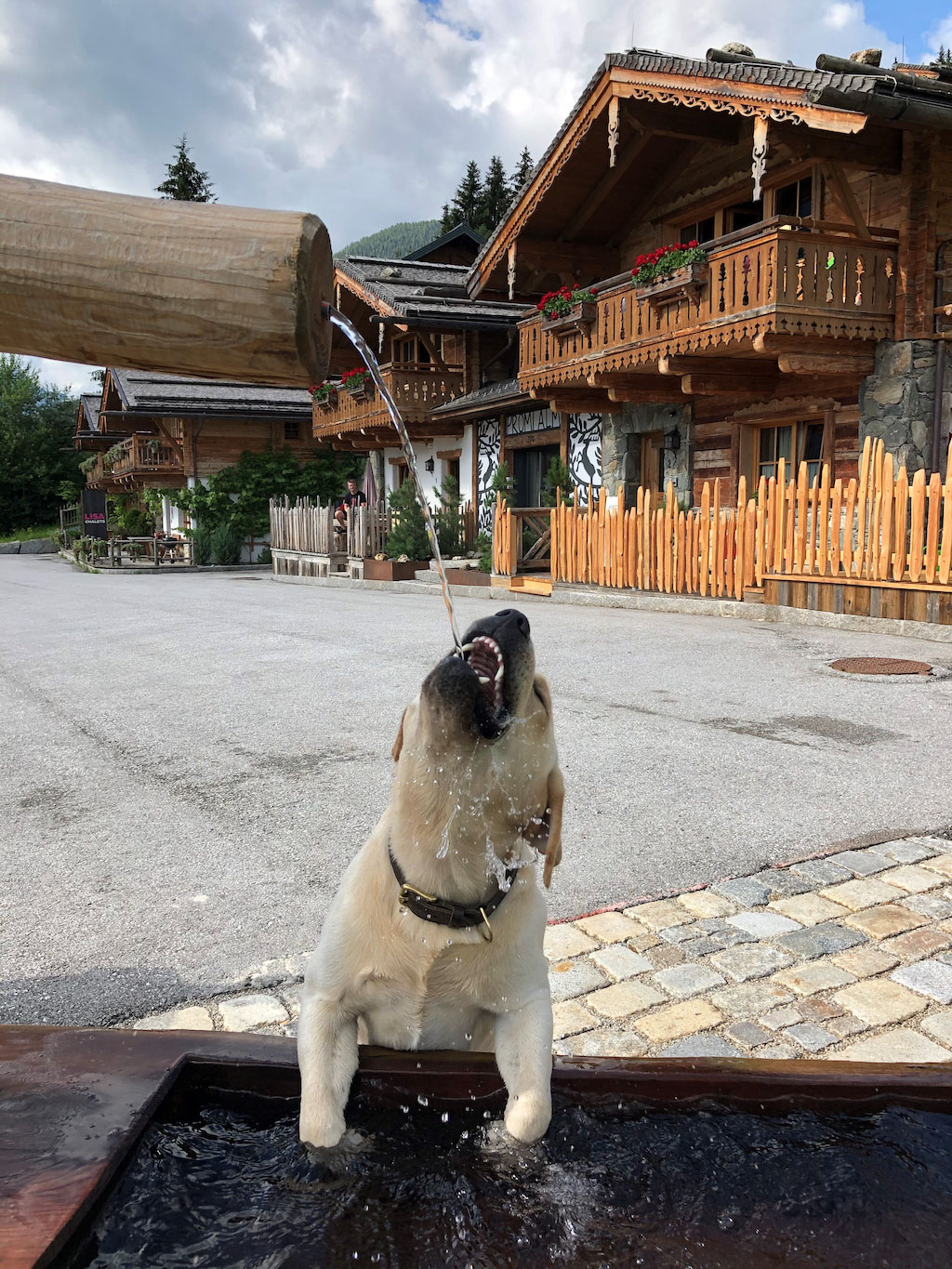 Dog-friendly self-catering huts at the Almdorf Flachau
Our mountain huts and elegant luxury chalets are also ideally prepared for the visit of your four-legged friend. All the houses have plenty of space for both people and their dogs. The high-quality floors can withstand both ski shoes and dog paws and are cleaned only with environmentally-friendly organic cleaners. Particularly recommended by dogs: the warm places by the fireplce – in front of the sauna or in the cosy kitchen/living area – are ideal for taking a short nap after a walk together.