Holiday at the Almdorf Flachau
in spring, summer & autumn
Summer in Flachau is simply different. In the heart of idyllic nature and yet full of action and adventure. What about a round of soccer golf, for example, or some climbing in the high wire park? Or do you prefer to get your kicks from rafting, canyoning, kayaking or mountain biking? And if you'd rather take things a bit easier: what about a leisurely e-bike tour to a swimming lake, a hike on an alpine pasture or an excursion to one of the mediaeval castles in the Salzburg region? You're in the heart of your holiday at the Almdorf Flachau!
Hiking in Flachau
That sounds like a summer retreat
Fragrant alpine meadows, healthy mountain air and barbecue evenings outside your own hut. Whether you want to set off on a hike from the Almdorf Flachau by yourself or explore the Salzburg mountain world tgoether with local hiking guides and mountaim experts: you can look forward to unparalleled natural and mountain panoramas, home-made cheese, bacon and bread in one of the mountain huts that serve food – and pleasant summer evenings by the barbecue outside your large, cosy chalet on the Promi Alm Flachau.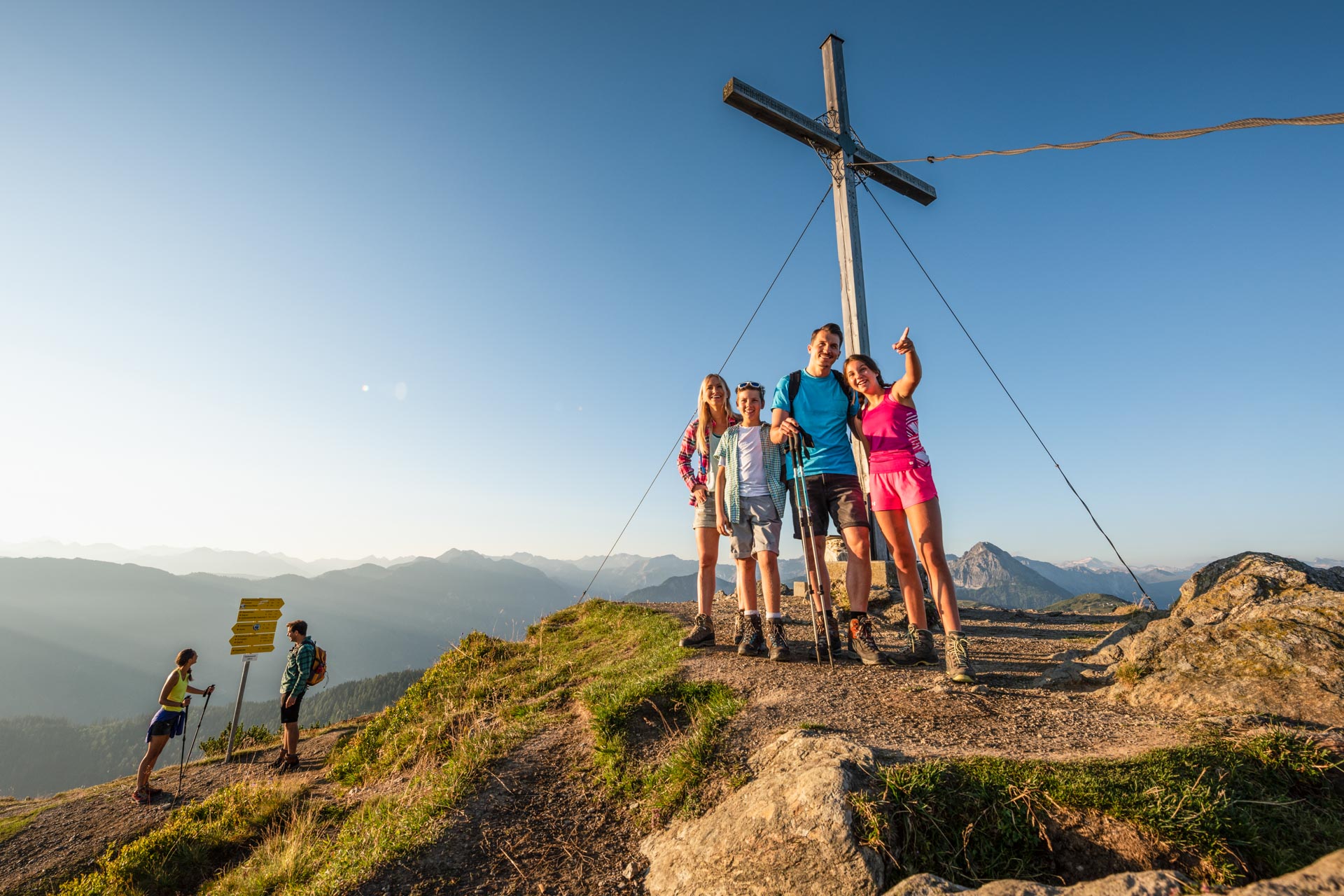 Mountain bikes, e-bikes or leisurely cycling?
The choice is yours and you can enjoy a great many opportunities. Challenging mountain bike tours, such as the Grießenkar tour, take you directly to the Almdorf Flachau. Or you can cycle from your hut along the Marbach to the Marbach pastures in Flachauwinkl and the Jägersee Lake in Kleinarl, or enjoy a leisurely cycle tour along the Enns Cycle Trail to the neighbouring towns of Altenmarkt and Radstadt.
The region around Flachau is a true paradise for bikers – no matter how strong your calves are. It's no problem at all with an e-bike and the large number of charging stations. So the climb up to the summit beomes a shared experience. And if you don't have an e-bike: there are plenty of places to rent one in Flachau (e.g. Sport Perner), as well as local experts who can accompany you on bike tours of all difficulty levels. You can get all the information here at the Almdorf.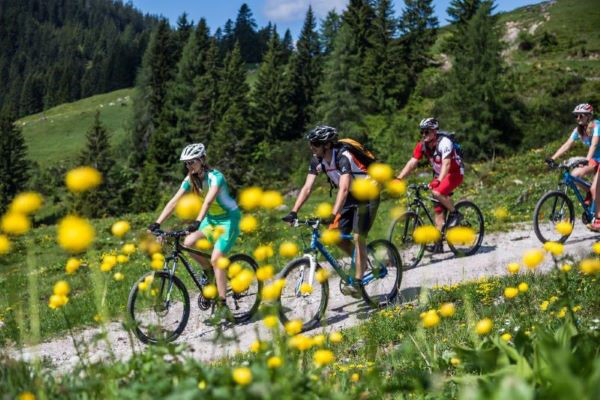 A leisurely cycle to the lake
Swimming in Flachau
You can also comfortably reach two nearby swimming areas by bike: entrance to the lakes in Flachauwinkl und Reitdorf is free and you can relax in the sunbathing areas or have fun swimming in the lakes with their drinking water quality. And if the weather is bad, the Erlebnis-Therme Amadé is only 10 minutes away by car.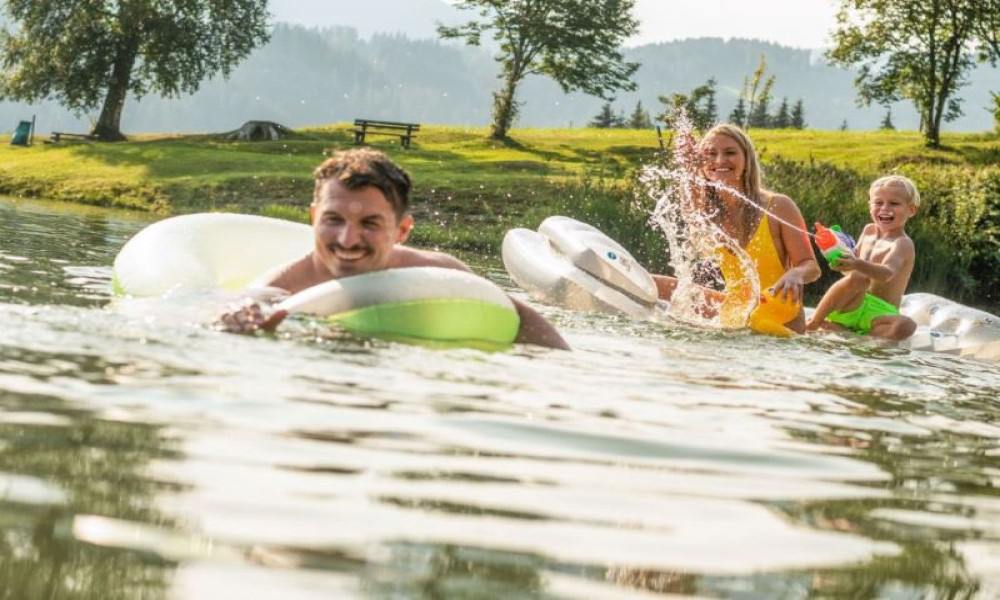 You can do anything – or nothing
Our daily programme of activities
Holiday experiences are included in your stay at the Almdorf Flachau: from June to early October, you can take part in a different guided hike every day. There is also a wide range of activities such as archery, beach volleyball, body fit, chill & fun and much more. And 1 free ascent and descent with the Flachau cable cars is also included per stay.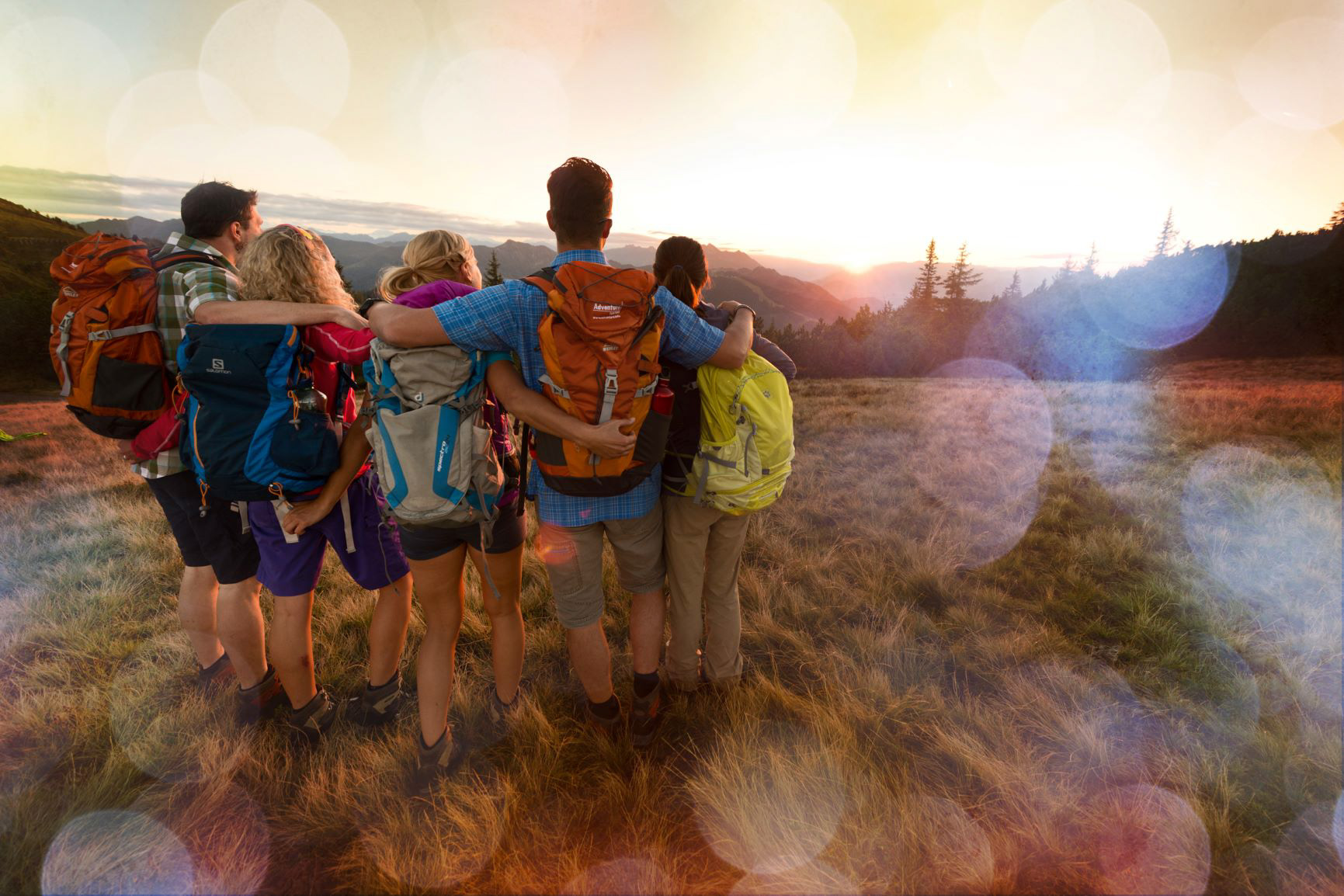 Holiday for the whole family
A holiday for adventurers of all ages
Flachau in the Salzburg Pongau region was made for your family holiday.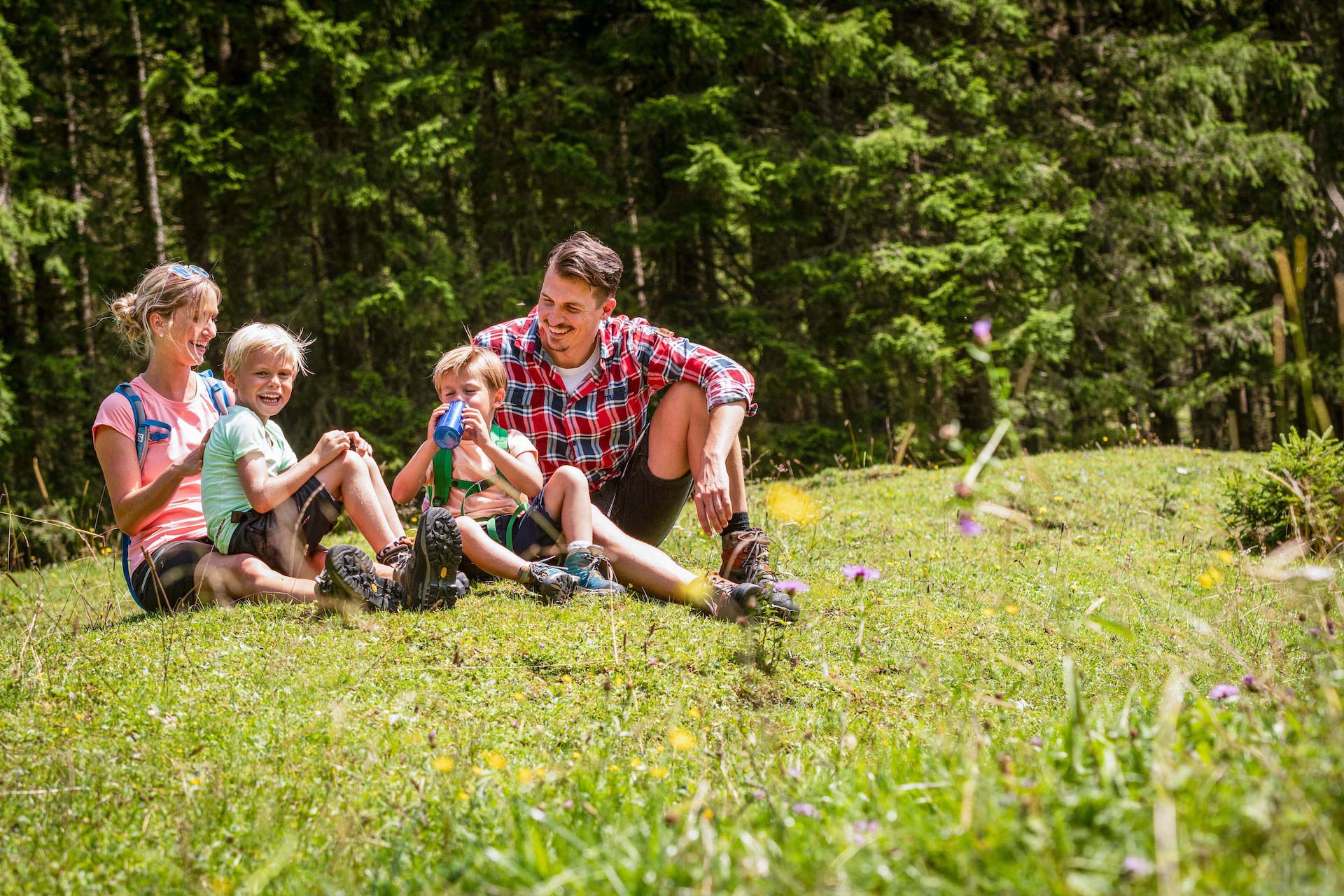 Holiday with dogs
A big heart for small companions

Here at the Almdorf Flachau we not only have a heart for  our furry friends; we also offer special holidays for guests with dogs…
Summer holiday in Salzburg
Self-catering huts with all the modern comforts
Do you prefer to enjoy your sauna infusion in a small, private group? Then the Almdorf Flachau is just the right place for you: both the huts in Almdorf and the luxury chalets on the Promi Alm have their own, cosy sauna. Underfloor heating and two fireplaces that you can heat up yourself create a pleasant warmth, even for bare feet. One in the relxation area outside the sauna and the other in the cosy kitchen/living area. From there you can see the flickering fireplace from the cosy sofa in the lounge area.
All the huts and chalets are designed and decorated with high-quality alpine wood, materials and metalwork from the alpine region – and offer a great deal of privacy. All the bedrooms have their own, large bathroom with a separate WC and shower or bath.